Posted on Friday, September 22, 2023 03:58 PM
UPDATE: Innisfil's event has been postponed. Stay tuned for details.Innisfil, ON – The Towns of Bradford West Gwillimbury and Innisfil are excited to announce the launch of two community conversations for local businesses to learn about the benefits and tips to supporting employee mental health in the workplace. These events are part of the South Simcoe Community Safety and Well-being Plan's collaborative efforts to tackle tough social issues and improve the well-being and safety of residents.
Posted on Saturday, September 16, 2023 12:01 AM
Whereas the Town of Innisfil recognizes the tremendous positive impact coaches have on athletes and communities; and
Whereas the purpose of National Coaches Week is to provide the many coaches who call Innisfil and Ontario home with the resources, representation, and recognition they deserve for the time they devote to ensuring Canadians live an active and healthy lifestyle; and
Whereas several great coaches live and volunteer in Innisfil and we celebrate their commitments by saying #ThanksCoach;...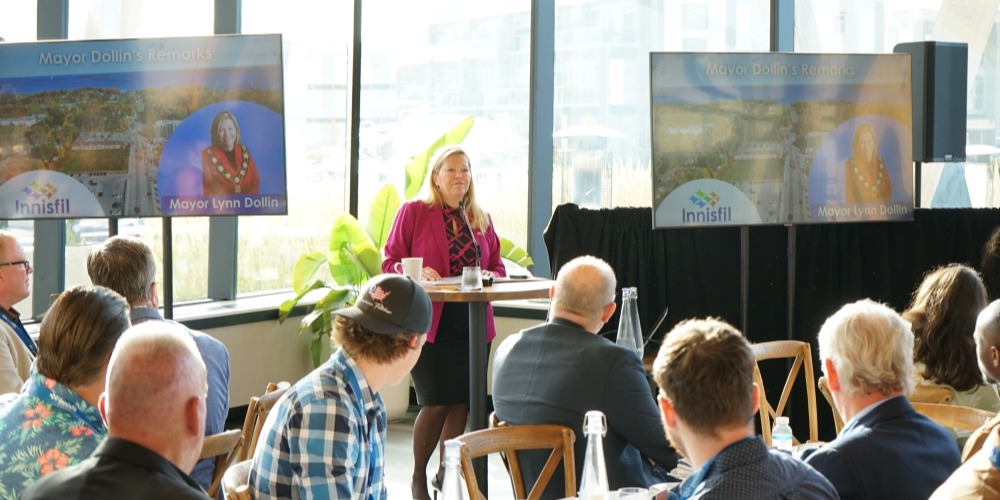 Posted on Wednesday, September 13, 2023 03:34 PM
Innisfil, ON – The Mayor's Business Breakfast brought together more than 130 attendees at Friday Harbour in the Town of Innisfil on September 13. Local business leaders, students and dignitaries gathered to network with fellow entrepreneurs and changemakers and hear strategic updates impacting Innisfil's business community.
"This annual event is all about creating shared goals, learning from each other, and laying the groundwork for collaboration as we strengthen Innisfil together," says Mayor...
Posted on Wednesday, September 13, 2023 09:30 AM
Meadowland Street from Yonge Street to Gimby Crescent will be temporarily closed due to InnServices watermain tie-in from September 18 at 7 a.m. to September 19 at 12 p.m. (noon).



For more information, contact Customer Service at 705-436-3710.
Posted on Tuesday, September 05, 2023 02:34 PM
Following the heat warning issued by Environment and Climate Change Canada, the Town of Innisfil has opened its cooling stations.
The cooling stations will be available at the following Innisfil ideaLAB & Library branches during operating hours until the heat warning has ended:
Cookstown Branch - 20 Church Street
Lakeshore (Alcona) Branch - 967 Innisfil Beach Road
Stroud Branch - 7883 Yonge Street
When temperatures are high, overexertion will increase the risk of heat exhaustion, dehydration or heat...