You can find public art in many places across the Town of Innisfil. Public art takes many forms, expresses our community values and brings people together in shared experiences. Explore the permanent, temporary and sometimes surprising art in our community.
Exhibitions
Explore art in unlikely places! Visit public buildings and spaces to see exhibitions of local artists. Find small exhibition spaces at Innisfil Beach Park, the Innisfil ideaLAB & Library, Rizzardo Health & Wellness Centre, InnPower and other public spaces across the town.
Ice Hut Art
In 2021/2022, a community-inspired public art project saw 11 ice fishing huts transformed by local artists into attractive, engaging and thought-provoking art displays. The 2022/2023 winter season brings 5 more ice huts transformed into an outdoor art gallery at Innisfil Beach Park. The huts from 2021/2022 will be located directly on ice at Gail's Hot Box Ice Huts.
The 2022/2023 project is supported by the County of Simcoe 2022 Tourism, Culture and Sport Enhancement Fund. Learn more about the artists and our partners on the Innisfil ideaLAB & Library's website.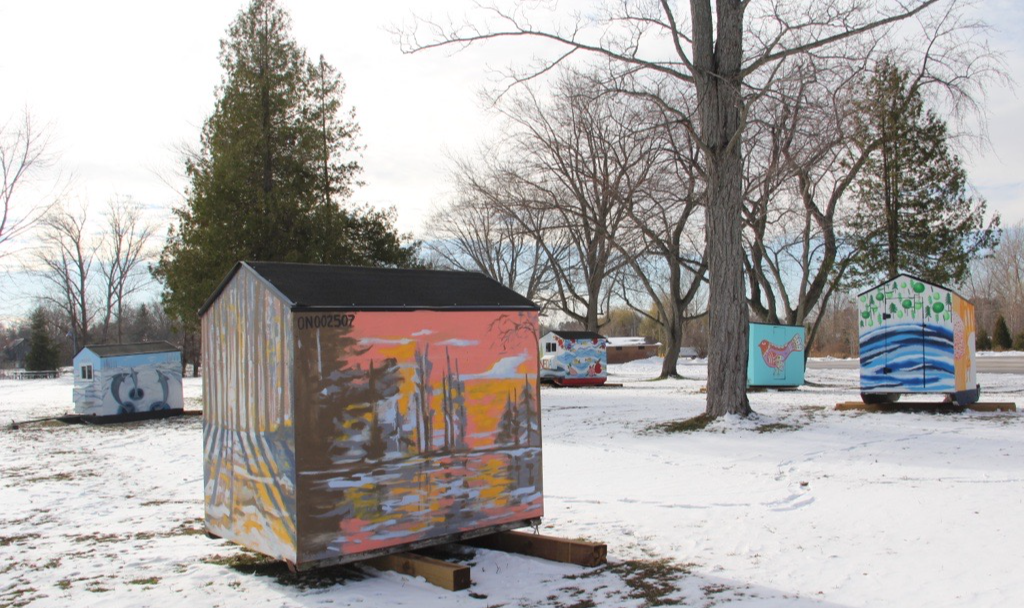 Youth Urban Art Project
We partnered with Nantyr Shores Secondary School students and teachers to create a Youth Urban Art school project. The students collaborated to design and create graffiti-style art to raise awareness for LGBTQ2+, Every Child Matters, Black Lives Matter, and mental health. The artwork was then transferred to sustainable materials and installed in three community spaces: the Innisfil Beach Park pump track, South Innisfil Community Centre (Lefroy), and Stroud Community Centre.
This project provided youth a chance to take ownership over how their community looks and feels and showcase their artistic talents.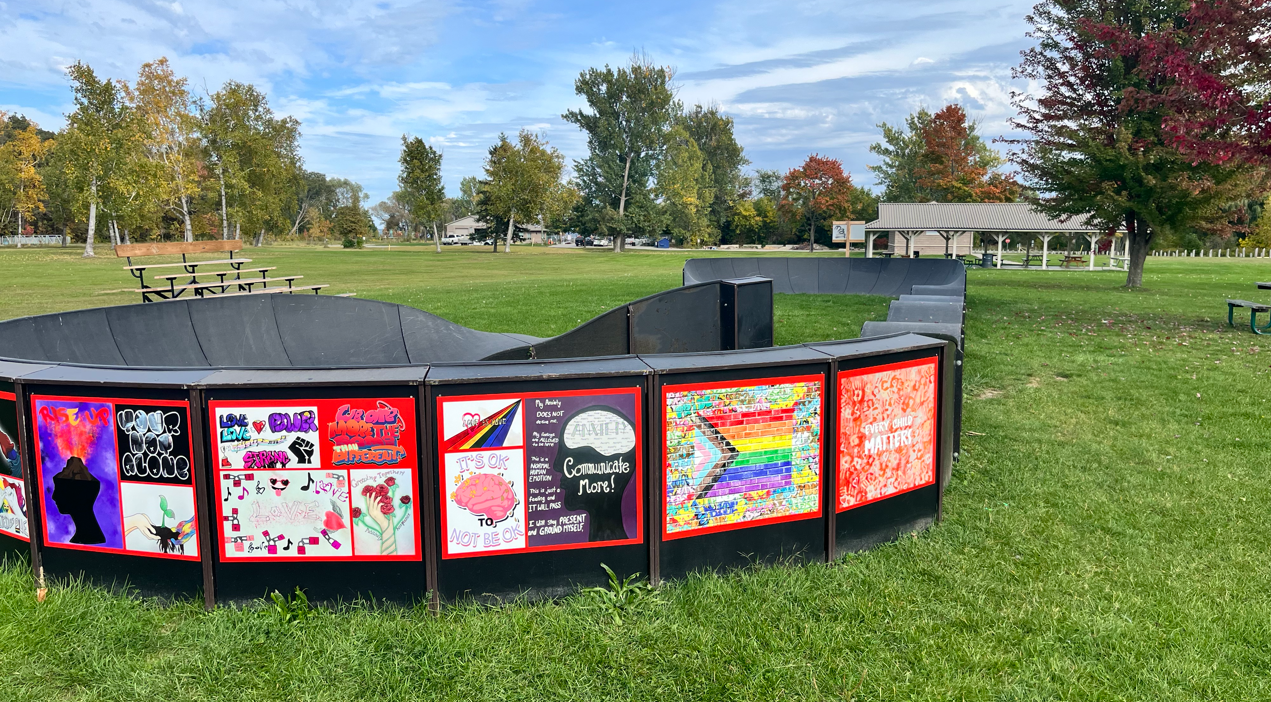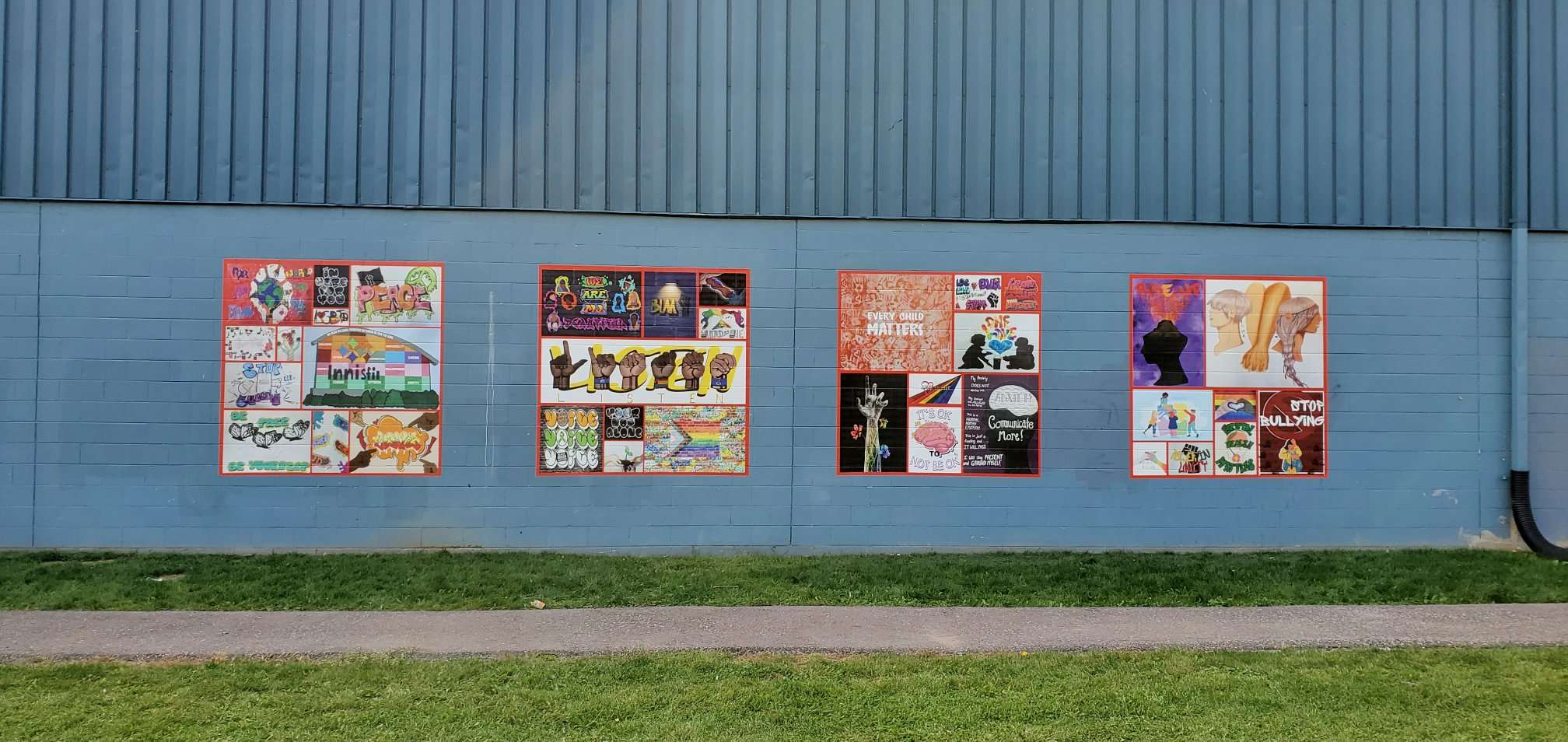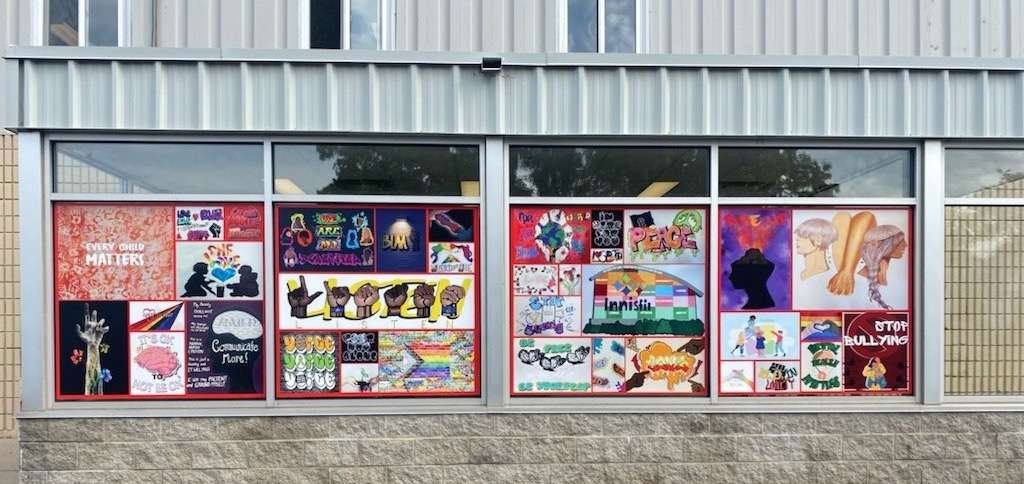 Bicentennial Utility Box Wrap
In recognition of Innisfil's 200th anniversary, we transformed ten utility boxes into commemorative landmarks highlighting rich and vibrant historical photos. Through this public art installation, residents can discover Innisfil's past, enjoy the outdoors and celebrate together in the community. Find the boxes at:
Alcona at 25th Sideroad and Joseph St. at the crosswalk to Goodfellow Public School
Alcona at Innisfil Beach Rd. across the Innisfil ideaLAB & Library
Alcona at Anna Maria Ave. and Ashwood Ave.
Big Bay in front of a property at 147 Big Bay Point Rd.
Cookstown at the corner of King St. and Hwy. 89
Cookstown on Queen St. across from the post office
Gilford at Shore Acres Dr. by the Town of Innisfil paid parking lot
Lefroy at Lormel Gate Ave. off of 20th Sideroad
Sandycove on Lockhart Rd. in the Sandycove Mall parking lot
Stroud at the corner of Victoria St. and Yonge St.
This project was a partnership between the Town of Innisfil, Innisfil ideaLAB & Library and InnPower. Visit Our Stories Innisfil to learn more about the photos used and the Community Anniversaries – Building Communities through Arts and Heritage grant that made this project possible.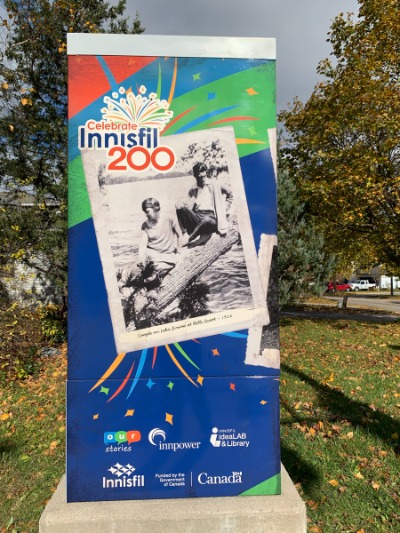 Murals
Check out engaging murals on public buildings and infrastructure.
Adams Road Mural by David Anthony
Located at Adams Rd. and Simcoe Blvd., the Adams Road ramp was designed with accessibility for all in mind. The ramp is extensively used by cyclists, parents with strollers, skateboarders and folks with a variety of mobility abilities, including scooters and wheelchairs. When we design with accessibility in mind, it helps everyone. This mural highlights the diversity of users we see in our community.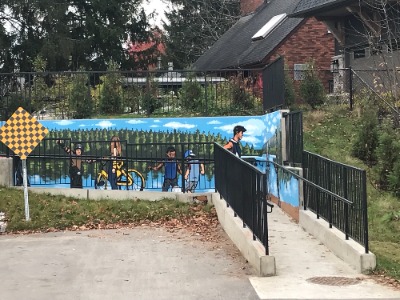 About David Anthony
David Anthony is an illustrator who works primarily with murals and large-scale canvases. Since he began nearly two and a half years ago, he has painted over 200 murals. His works include South Asian, West Indian, West African, and Middle Eastern heritage to name a few, showcasing the true diversity of Canada. His style and approach can be summed up as a mix of fine art and illustration, mixing detailed portraits and dynamic figures with bold and often colourful design elements. His indoor murals are known to include faux jewels and fabric as an extra addition to the traditional painting method.
South Innisfil (Lefroy) Community Centre Mural by Sonja Rathke
Completed in 2009, this mural was Innisfil's first public art mural. Rathke painted this mural using inspiration from historical photos, courtesy of the Innisfil Historical Society. Find the mural on the southwest corner of the building's exterior, located at 1354 Killarney Beach Rd.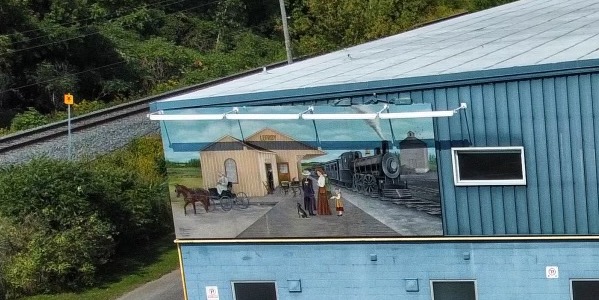 Stroud Community Centre Mural by Sonja Rathke
Painted on the north side of the Stroud Community Centre (7883 Yonge St.), this murals shows Stroud in 1926. Rathke, a muralist from Midland-Penetanguishene, painted the mural in nine pieces on wooden panels. Rathke took inspiration from historical photos courtesy of the Innisfil Historical Society. The mural was completed in 2010.
In 2021, the mural was removed for restoration.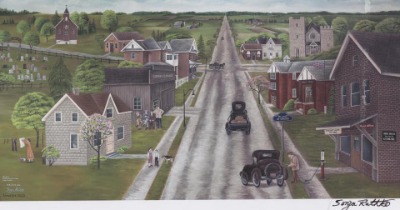 Sculptures
See where you can view sculptures in Innisfil.
Jig Rig by Ron Baird
Located on the southwest side of the InnPower building (7251 Yonge St.), Jig Rig was erected in 2014 as a result of the efforts of the Innisfil Arts, Culture and Heritage Council. Baird's design was selected after a nation-wide call for artists. Made of polished steel, Jig Rig stands at 15 metres high. The mirrored finish projects reflections on the ground and the middle section evokes the feeling of falling water.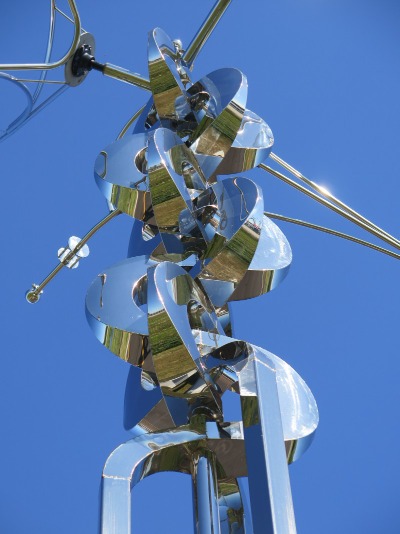 About Ron Baird
Ron Baird, RCA, AOCA, has been regularly commissioned to create large-scale, site-specific sculpture installations across Canada and abroad for more than 40 years. Often his work has imaginative elements that move in the wind, are light-responsive or make sounds. Some pieces also include electronics, electronic sound, interactive elements or incorporate programmed light sources.
He has completed more than 150 public commissions with a variety of inventive concepts. These include fountains, sculptural landmarks for world fairs and civic parks, towers, murals, carillons and site-specific pieces for business, donor recognition, industry government and private collectors.
Ron is a winner of numerous awards and medals including allied arts awards from The Royal Architectural Institute of Canada and the Ontario Association of Architects. Ron is a member of the Royal Canadian Academy of the Arts, a graduate of the Ontario College of Art and has been awarded prizes for his prints.
Mann by Heinz Gofforth
Donated by his son Eric Gofforth in 2016, Mann found its home nestled in the pollinator garden along the Innisfil Rotary Trail near Town Hall (2101 Innisfil Beach Rd.). Created in 1967, this piece was originally located in the artist's cottage in Peterborough before being moved to Mississauga and finally donated to the Innisfil ideaLAB & Library in 2016.
About Heinz Gofforth
Gofforth studied art at the master school in Krefeld, Germany, and entered the Academy of Fine Art in Dusseldorf at age 16 where he was a student for two years before World War II interrupted his training. Between 1946 and 1955 he travelled to Italy, Austria, and Switzerland to study, paint, and exhibit his work.
He arrived in Canada in 1955 with his wife Christine and their two sons Eric and Chris. He found the countryside and lifestyle so inspiring that the family settled in Mississauga and maintained a cottage in Peterborough.
Gofforth's work gained international recognition after appearing in an exhibition at the Museum of Fine Art in Cincinnati, Ohio. Though renowned as a portrait painter, his body of work includes sculptures and a number of landscapes, particularly of Georgian Bay. He also enjoyed using art to illustrate and interpret the human condition, including the use of abstract nude forms.