Looking to get outdoors and enjoy Lake Simcoe? At Innisfil Beach Park you can spend the day swimming, boating, or visiting with friends and family. During the winter, you can snowshoe, access the lake for a day of ice fishing or try our toboggan hill!
The park is open daily from 6 a.m. to 10 p.m.
Location and parking
The beach is located at 676 Innisfil Beach Rd. and offers free parking for all Innisfil residents who display their Resident Parking Pass. If you're from out of town, you must pay to park within Innisfil Beach Park. View our municipal lots and rates for more details about where to park.
We close the gate at the front entrance of the park when the parking lots near capacity. When the gate is closed, only Innisfil residents are permitted to park if parking is available.
Rules and regulations
We want to make sure that everyone knows the rules and has a fun and safe visit to the park. Let's work together to respect each other and the natural beauty of Innisfil Beach Park. Please review the following park rules and regulations:
No motorized vehicles within the parkland
No portable barbecues, camp stoves, cookers or smokers
No alcohol or smoking while in the park (includes cigarettes, cannabis and hookah pipes)
No littering
No fireworks
Portable toilets and containment vessels are not allowed
Dogs must be on a leash no longer than 2 metres (6 feet) and are not allowed on sports fields, within 15 metres (50 feet) of the water's edge, or on beach areas

Does not include the off-leash dog beach at Beach 6
You must clean up after your dog

Tents are allowed at Innisfil Beach Park is they meet the following regulations:

Tents can be no larger than 10 by 10 feet
The interior of the tent must be visible from the outside
Off-leash dog beach
Bring your dog to enjoy a day by the water at the dog beach, near the north end of Innisfil Beach Park. The new dog beach is a permanent fixture at Beach 6, replacing the temporary dog beach located at Beach 1 that was part of a 2022 pilot project. The dog beach is open seven days a week during park hours. Please be a responsible pet owner and follow the posted rules:
No dogs in heat, exhibiting sickness, or under three months of age
Dogs licences must be current and visible on the dog
Pick up after your dog
An adult must accompany anyone under the age of 16, and no more than three dogs can accompany any owner
No food or dog toys allowed
Any dogs behaving aggressively must leave the dog beach immediately
All dogs must remain on leash inside the entrance corral before entering and exiting the dog beach area
Dogs are not permitted to run off leash outside of the confines of the off-leash dog beach
Beach users and dog owners assume all risk while at the off-leash dog beach
Swim advisories
Visit Simcoe Muskoka District Health Unit to find out about any beach water advisories or closures before you head to the beach. If there is a swim advisory in effect, you should avoid dunking your head underwater or swallowing beach water. We post signs to notify visitors of the beach's status.
Map and virtual tour
View a map of Innisfil Beach Park and take a virtual tour to check out the park amenities and landscape before you visit.
Park map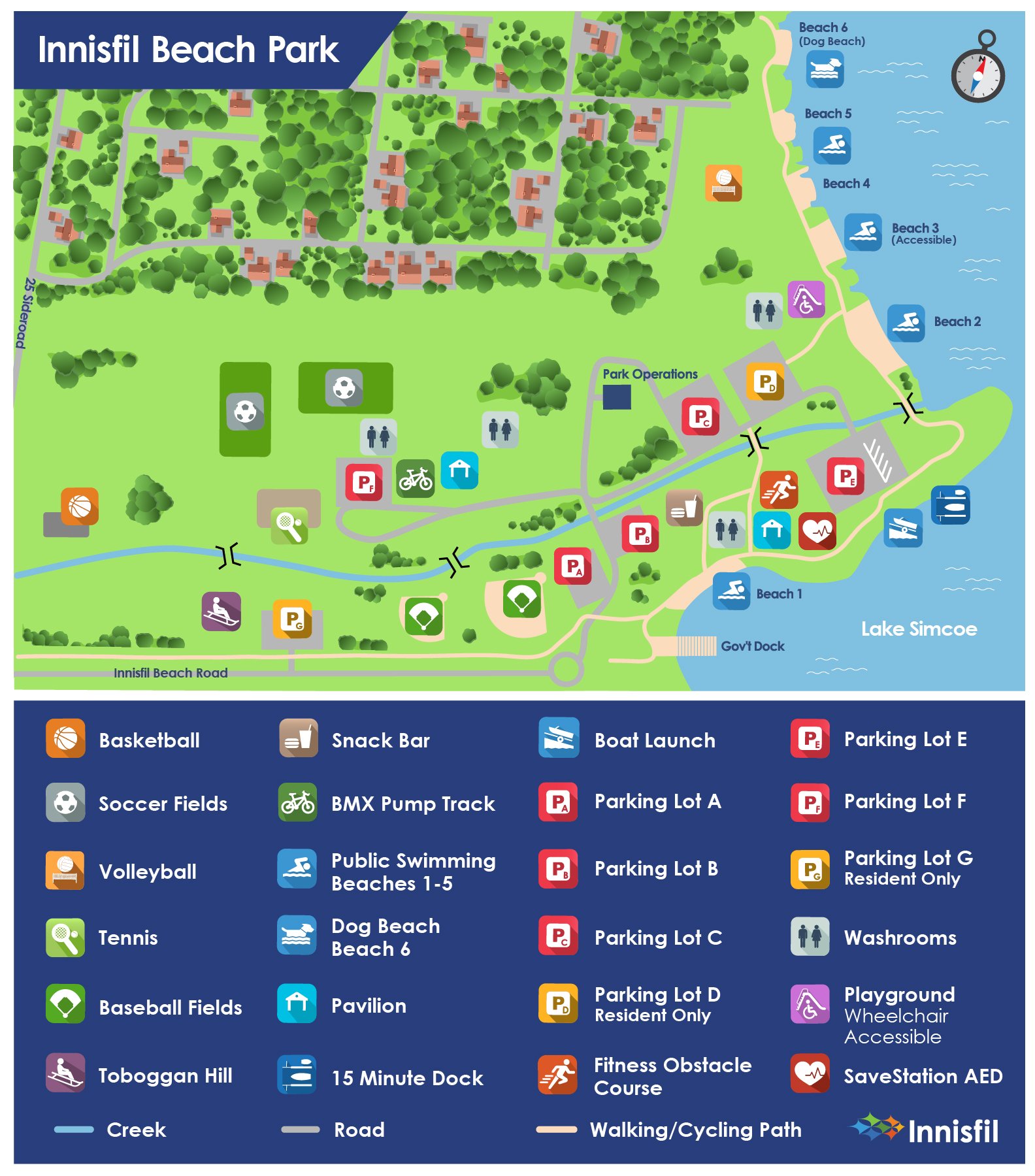 Amenities
The park covers 27.6 hectares of land along the shores of Lake Simcoe and includes the following amenities:
Dock
Dog beach
Pavilions
Playground equipment
Five public swimming and beach areas
Snack bar
Sports fields (soccer, basketball, baseball, volleyball and tennis)
BMX pump track
Outdoor fitness obstacle course
Trails
Washrooms
Accessible access to the water (Mobi-Mat on Beach 3)
Pavilion rentals
You can rent one of the pavilions for your next family reunion, shower or event. Learn more about park and pavilion rental fees and availability.
Photo Gallery: Innisfil Beach Park will appear here on the public site.