The County of Simcoe provides waste collection services for the Town of Innisfil. Collection services include:
Please contact the County of Simcoe if you have any questions about garbage and recycling or waste management at 1-800-263-3199 or service@simcoe.ca.
Collection schedule
View the County of Simcoe's collection schedule to find out your collection day. You can also download the free Simcoe County Collects app for customized waste management information, including service alerts, collection reminders, and waste facility information. Check out the Waste Wizard to learn how to sort items into your garbage, recycling and organics carts.
Setting out your carts
Follow these guidelines when setting out your carts to ensure your waste is collected:
Have your materials at the road or curb by 7 a.m. of your collection day
Place carts on a level surface within eight feet of the travelled portion of the road, avoiding low hanging branches​
Remember the "Rule of 2": Set out carts two feet apart, with two feet between your cart and any other objects
Point the arrows on the carts towards the street and handles towards your house​
Do not over-stuff carts, fill loosely, ensure lid is fully closed​
Do not use bungee cords or other items to keep the cart lids closed
Special instructions for winter
When it snows, follow these instructions for setting out your carts this winter:
When shovelling, clear a flat spot at the end of your driveway or at the curb for your carts
Place carts within eight feet of the travelled portion of the road, which ensures the automated arm can reach while allowing room for snow clearing​ equipment to pass
Don't place carts behind or on top of snowbanks​​​​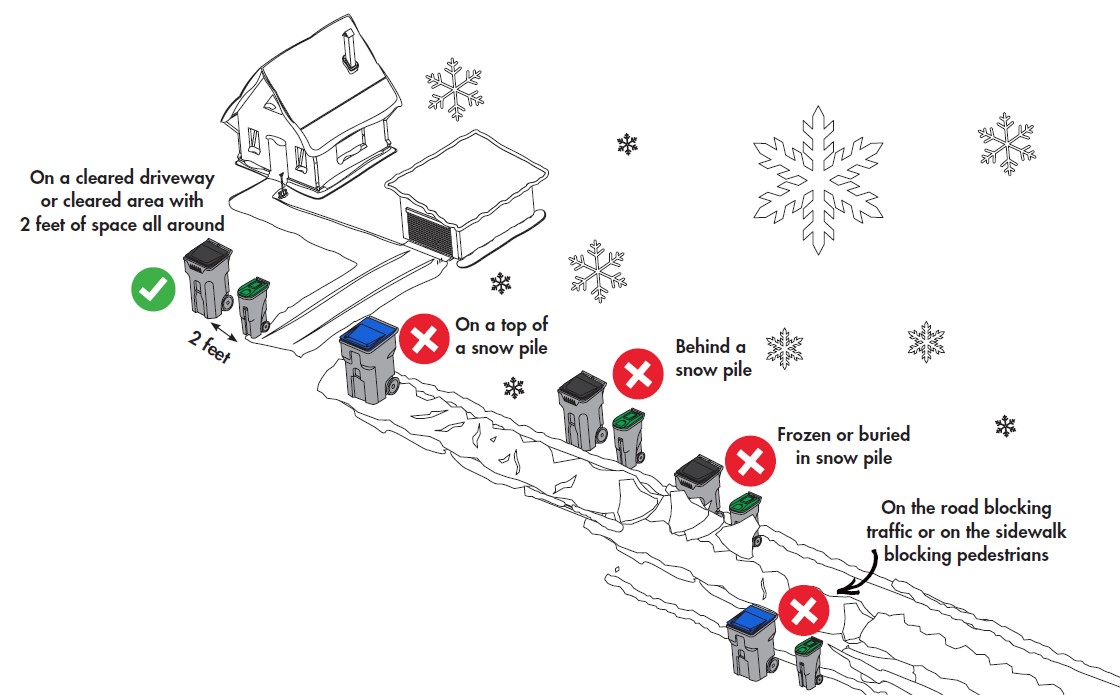 Landfills
Dumping is prohibited in Innisfil. If you need to dispose of large items, you can use any of the County of Simcoe landfill sites and transfer stations. You can divert the following materials for free at a County of Simcoe landfill:
Textiles (reusable)​
Household hazardous waste
Leaf and yard waste
Waste electronics
Concrete rubble (one foot by one foot maximum size)
Blue box recyclables
Residential organics
Scrap metal
Tires (max 10)