Troy Scott Community Fridge
The Troy Scott Community Fridge is a neighbours helping neighbours initiative to increase access to nutritious food for all Innisfil residents. Everyone is welcome to take food from the fridge and pantry at any time, in any quantity, as often as they'd like. Businesses, organizations and individuals across the community donate food daily.
Accessing the Troy Scott Community Fridge
There are three Troy Scott Community Fridge locations across Innisfil.
At the Innisfil Recreational Complex
Access the community fridge at the north entrance of the Innisfil Recreational Complex (IRC) at 7315 Yonge St. This location is outdoors and accessible 24/7. Thanks to a donation from Alcona Home Hardware and the work of Nantyr Shores Secondary School students, the fridge at IRC has a custom built, winterized structure.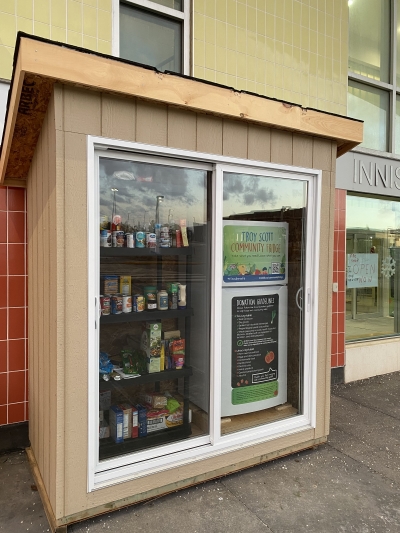 At the Alcona (Lakeshore) Library Branch
Access the community fridge inside the Innisfil ideaLAB & Library Lakeshore Branch at 967 Innisfil Beach Rd. Open during the Library's business hours.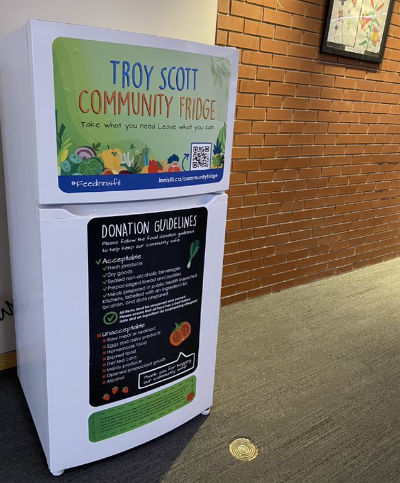 At the Cookstown Library Branch
Access the community fridge inside the Innisfil ideaLAB & Library Cookstown Branch at 20 Church St. Open during the Library's business hours.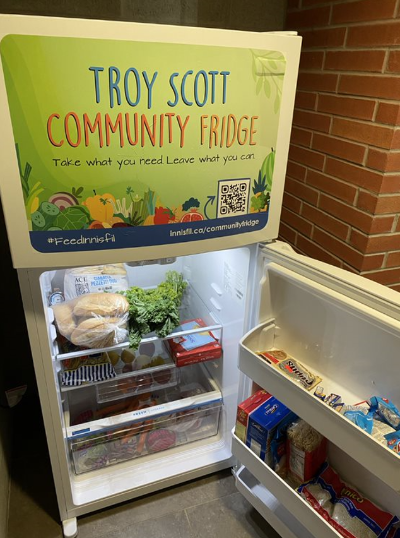 Ways to get involved
Get food: The fridge is for everyone! Stop by to grab whatever you need, whenever you need it
Donate food: If you're able to donate food, please do! Every small donation has a big impact. Be sure to follow the food donation guidelines
Give financial support: If you'd like to donate food but are unable to visit the fridge, you can make a financial donation online and we'll purchase groceries for the fridge on your behalf
Channel your inner chef: Sign up for our cooking programs at the Horodynsky Community Kitchen (inside the Rizzardo Health and Wellness Centre) to learn new skills and have fun cooking meals for the community fridges
Spread awareness: Share a post on social media using the hashtag #FeedInnisfil or tell your friends to help get the word out
Provide feedback: Let us know what's working and what can be improved by emailing your thoughts to communityfridge@innisfil.ca
Become a Community Fridge Ambassador: Contact communityfridge@innisfil.ca to learn more and get involved
Donation guidelines
Please follow these guidelines when donating to the community fridge.
Acceptable
Fresh produce
Dry goods
Sealed non-alcoholic beverages
Prepackaged breads and pastries
Meals prepared in public health inspected kitchens, labelled with ingredient list, location prepared, and date prepared or best before date
Frozen foods
New personal care items for the pantry
All items must be unopened and unused. Please ensure that all food has a best before date and ingredient list.
Unacceptable
Raw meat or seafood
Eggs and dairy products
Homemade food
Expired food
Dented cans
Moldy produce
Opened prepacked goods
Alcohol
If you wouldn't eat it, feed it to your compost—not your neighbours!
Honouring the memory of Troy Scott
The community fridge project was re-named in October 2021 in loving memory of resident, business owner, and community builder Troy Scott, who tragically lost his life in June 2021. Troy was a beacon of the community, known for his generosity and community support. The Troy Scott Community Fridges aims to carry on Troy's legacy of generosity and kindness, which reached every corner of the Innisfil community.
Frequently asked questions
What is a community fridge?
A community fridge is a public repository of fresh, donated foods that anyone can take from for free. Community fridges are designed to facilitate access to nutritious foods and reduce food waste.
Who can access the fridge?
Everyone is welcome to take food from the fridge, in any amount, and at any time. The general idea is to take what you need, and leave what you can. The fridge at the Innisfil Recreational Complex is open to the public 24 hours a day, 7 days a week. The fridges at the library branches are open during building hours.
How can I donate?
Everyone is welcome to donate to the community fridges, whether you are donating as an individual, a business, or a community group or organization. Simply drop off your donation whenever you can. Please follow the food donation guidelines.
How is the fridge kept safe and clean?
We maintain the safety and cleanliness of the community fridges through two daily check-ins where we check the fridge contents and temperature for safety and quality, and disinfect high touch surfaces. The fridges are also deep cleaned twice a week. To further support food safety, we ask that those donating food follow our food donation guidelines.