Traffic Safety in School Zones
The safety of children is important to everyone in our community. Drivers should be extra vigilant when driving near schools to help keep our school zones safe for students, families, and pedestrians.
Parking near schools
Parking restrictions in school zones help keep pedestrians safe and traffic flowing. These areas are marked with traffic signs. Disobeying traffic signs is prohibited by law, so remember to stay alert! Make sure your vehicle is not blocking a driveway or fire hydrant.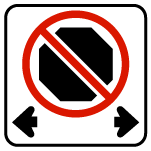 A No Stopping Sign means you cannot stop your vehicle in this area, even for a moment. Drivers cannot drop off or pick up passengers here. You may receive a $120 fine under By-Law 028-17 if you do not obey the signs.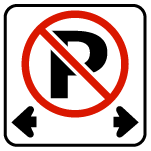 A No Parking Sign means that you cannot park your vehicle in this area. Drivers may stop their vehicle to drop off or pick up passengers, but they cannot leave their vehicle or wait for passengers while in a no parking zone. You may receive a $35 fine under By-Law 028-17
if you do not obey the signs.
View the following school zone parking maps to find out where you can park in a designated school zone:
You can use our map to find trails, sidewalks, and pedestrian signals near your school. Search by address or zoom in on the map for detailed information.
Safety tips for walking to school
People walking to school should be aware of the hazards that traffic and parking congestion can create. When walking:
Be seen, follow pedestrian safety signals and be aware
Stop, look, and listen before crossing the road, even when it is your turn to cross
Make eye contact with drivers to ensure they see you before you proceed
Avoid distractions like texting, talking on your cellphone and wearing headphones when crossing the street
Jaywalking can be dangerous; cross at pedestrian crossings
The importance of using pedestrian crossings
We encourage everyone to use pedestrian crossings when available so drivers have increased awareness of your presence. Jaywalking is more unpredictable for drivers, increasing the odds of a collision when people try to cross the road with little or no warning.
Pedestrian crossovers are specifically indicated by pavement markings, signs, pedestrian push buttons and overhead lights. Learn more about using pedestrian crossovers. A pedestrian crosswalk, on the other hand, is usually part of a roadway at an intersection.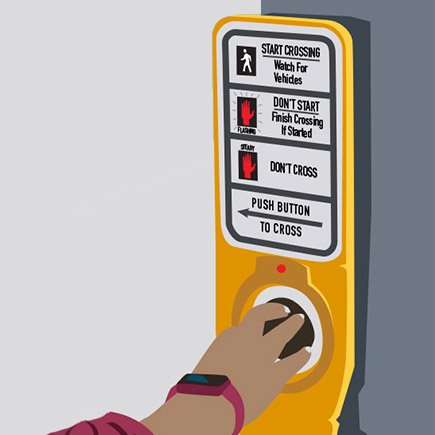 Pedestrian Push Button
Press button (if present) and wait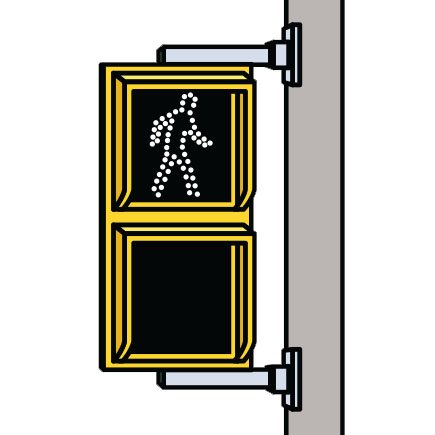 Solid Walk
Start crossing (look all ways)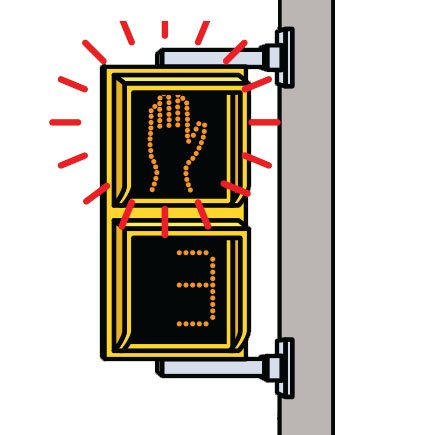 Flashing Don't Walk Countdown
Don't start crossing (finish crossing if you've already begun)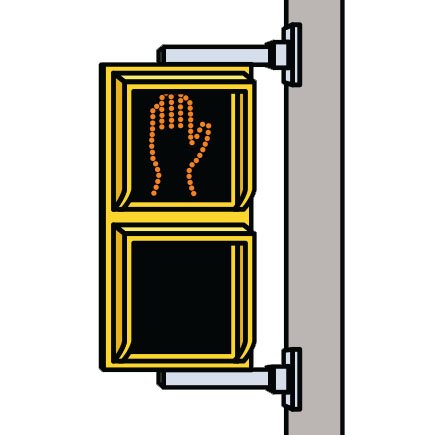 Solid Don't Walk
Don't cross
Walk-a-block
To help ease congestion in school zones, consider parking in a safe and legal space a few blocks from the school and walk the remainder of the way. Daily physical activity plays an important role in developing healthy kids and a healthier community overall.
Benefits of walking or wheeling to school
Active school travel brings many benefits to children, families and the overall community:
Walking and wheeling gives kids the chance to get to know their neighbourhood and develop confidence and independence
Walking and wheeling creates opportunities to learn valuable pedestrian and cycling skills and safety
More students and families walking or wheeling to school makes everyone easier to see and puts more eyes on the street for safety
Fewer cars around schools reduces traffic congestion, improves safety and decreases harmful air pollution
Active school travel is an easy and fun way for families to reduce their carbon footprint, fight against climate change and support a healthy environment
Parents and caregivers can role model healthy behaviours and benefit from the physical activity too
Safety tips for drivers
Here are a few simple actions that drivers can do to keep our community safe:
Look for pedestrians, especially when turning left or right. Don't just look in front of you. Check the entire crosswalk for pedestrian and cyclists
Do not use handheld electronic devices (texting or talking) or other distractions such as eating and drinking when driving. Give the road your full attention
Be extra aware and follow slower speed limits in school zones and in neighbourhoods where children are present and sometimes unpredictable
Adjust your driving according to weather and traffic conditions
Keep your windshield clean and clear and your headlights on so you can better see pedestrians and they can better see you
Never assume a pedestrian has seen you! Always make eye contact and confirm with pedestrians that they know you're yielding the right of way or turning