You can pay for Innisfil Transit by credit card, debit, Uber gift cards or PayPal. Make sure to download the Uber App to access our transit services and discounted rates.
Make sure you review our instructions on how to use Innisfil Transit before your first ride.
Transit rates by route
When you travel anywhere within Innisfil, you'll save $4 off the standard rate. Travel to/from the following locations and enjoy discounted fares:
$4 fare
Innisfil Recreational Complex and Town Hall area
Innisfil ideaLAB and Library (Lakeshore Branch)
Morgan Russell Memorial Arena & Community Centre (Lefroy)
Innisfil Community Church and Innisfil Food Bank
$5 fare
Innisfil ideaLAB & Library (Stroud Branch)
Closest GO Bus Stop along Yonge Street

Yonge Street/Victoria Street bus stop near the Innisfil ideaLAB & Library (Stroud Branch)
Yonge Street/Innisfil Beach bus stop Road near the Rizzardo Health & Wellness Centre
Yonge Street/Killarney Beach Road bus stop near the Churchill Community Centre
Yonge Street/Shore Acres Drive bus stop near the Esso and Ultramar gas stations (Fennell's Corner)
$6 fare
Barrie South GO train station
Innisfil Heights Employment Area and Highway 400 carpool lot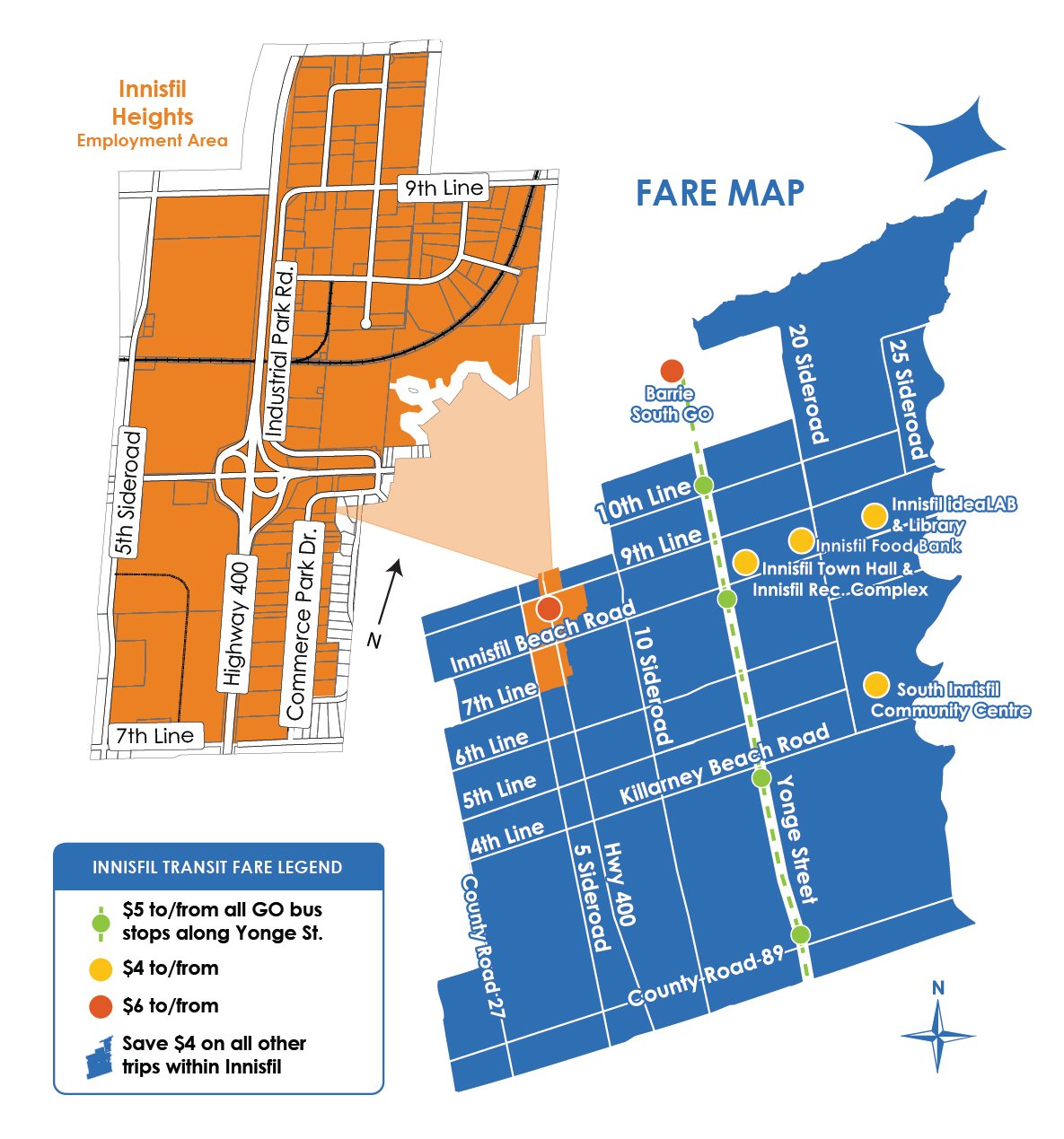 If you're using personal and business profiles within the Uber app, we recommend switching to your personal profile to use Innisfil Transit rates. To switch between profiles:
At the bottom of your screen, tap the Account option
Select Wallet option on top of your screen
Scroll down to Ride Profiles and toggle the button to your personal profile
Fair Transit Program
The Fair Transit Program provides a 50% discount on all rides to eligible passengers. This helps remove financial barriers and provides low-income residents with access to transit. You can find the eligibility requirements within the Fair Transit Program Application.
Fair Transit Program Application
Once you're enrolled in the program, you'll be exempt from the 30 ride per month limit and you'll get two free return trips to the Innisfil Food Bank each month.
Refund requests
If you were charged an incorrect rate by Uber while using Innisfil Transit, please report this in the Uber App. At the bottom of your trip receipt, select "Review my fee and fares" to report an issue.
If you don't get a resolution within three to five business days, please complete the Fare Refund Request form. We aren't able to give you a direct refund, however, we can help you contact Uber to get your refund.