The Town of Innisfil has several pedestrian crossovers for people to use when crossing a road. A pedestrian crossover:
Is a type of crossing that requires vehicles to stop and allow pedestrians to cross the road
Has specific pavement markings and crossing signs (e.g. illuminated overhead lights or warning signs and pedestrian push buttons
Pedestrians have the right of way at crossovers and crosswalks. Drivers and cyclists must stop behind the yield line and wait until the pedestrian completely crosses the road before proceeding. All road users must obey pedestrian crossover rules at all times.
Types of pedestrians crossovers
Some types of pedestrian crossovers in Innisfil are Level 2 Type B and Level 2 Type D.
Level 2 Type B
A Level 2 Type B crossover has regulatory and warning signs, flashing beacons and pavement markings. The system uses both the side mounted and over-head regulatory signs.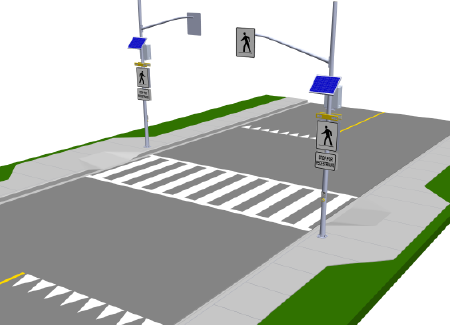 Level 2 Type D
A Level 2 Type D crossover as regulatory and warning signs and pavement markings.
There are no flashing beacons.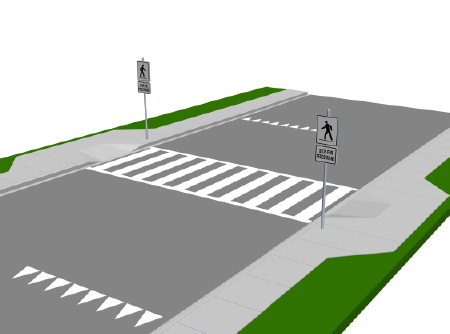 Using pedestrian crossovers
Watch this video from South Simcoe Police Service to learn how to safely use crossovers.
Responsibilities of drivers
Be prepared to stop for pedestrians
Stop behind the yield line
Ensure the pedestrian sees you
Wait until pedestrian completely crosses road before proceeding
Responsibilities of pedestrians
Indicate intention to cross by pointing a finger in the direction you are walking and/or, use the pedestrian button where available
Wait for traffic to stop
Ensure driver sees you and that the vehicle has come to a complete stop before crossing
Responsibilities of cyclists
When riding with traffic, follow rules for drivers
When crossing, follow rules for pedestrians; dismount and walk your bike across you are legally required to dismount at a crosswalk/crossover
Fines and penalties
There are three offences related to parking a vehicle within or near a crossover or crosswalk as per our Parking By-law:
Within an intersection or crosswalk
Within 30 metres of the approach side of a crosswalk that is not located at an intersection
Within 15 metres of a departure side of a crosswalk that is not located at an intersection
The fines for all are $35 for voluntary payment (within 7 days) and $50 set fine (after 7 days). The Highway Traffic Act has additional penalties and fines. Review the Ministry of Transportation's Driver's Handbook for details.
New pedestrian crossover locations
There are several new pedestrian crossovers in Innisfil, located at:
Trans Canada Trail at Queen St. (Hwy 89) in Cookstown
Jans Blvd. and Corm St.
Jans Blvd. and Westmount Ave.
Webster Blvd. (between Hunter St. and Butler St.)
9th Line at Ralph Street