Councillor Alex Waters represents Ward 4 for the Town of Innisfil.
Contact Councillor Waters
You can contact Councillor Waters at awaters@innisfil.ca or 705-436-3740 ext. 1114. You can also contact his cell at 705-220-7376.
About Councillor Waters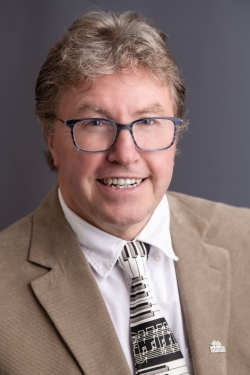 Councillor Waters has spent most of his career dedicated to environmental sustainability. As a Senior Manager and educator at the Kortright Centre for Conservation for over 30 years, he was responsible for designing and implementing educational programs that informed thousands of students and adults on environmental issues and the actions they could take in their homes and community. Councillor Waters' specialty is in sustainable houses that use green energy technologies. After he retired, he built Innisfil's first passive house, which is the most energy-efficient home here in town.

Realizing the huge development pressures Innisfil is under, Councillor Waters first made his move into local politics in 2018. In 2022, he was re-elected to help Innisfil carve out a more sustainable path to preserve our rural landscape, protect Lake Simcoe, and support a healthier community. Over the last term, he worked with staff and council on important sustainable strategies and initiatives for the town, including serving on the Board of Directors for the Lake Simcoe Region Conservation Authority from 2018 to 2022.
Councillor Waters has been an Innisfil resident for over 30 years where he and his wife Sylvia have raised their two children, Danielle and Michael. During his spare time, he is building an off-grid cottage powered by solar energy and continues to do presentations on green building design, providing advice to others seeking to make their lives and communities more sustainable.