Every two years, the Town of Innisfil develops a service-based budget that identifies the cost of providing services to our community. Within the overall budget, Council adopts an operating budget and a capital budget.
The operating budget addresses the day-to-day cost of providing services to residents and businesses. The capital budget looks ahead to identify the infrastructure that we need to build and maintain. The budget also includes the financial components of the Town's strategic and master plans as adopted by Council.
2023-2024 Budget
Significant work has been completed to arrive at the Town's proposed 2023-2024 budget. Thanks for giving us your valuable input throughout this process!
Read the Proposed 2023-2024 Budget
Any budget for any organization requires prioritization. After financial challenges stemming from a two-year-long pandemic and extraordinary inflation, difficult decisions had to be made to try and balance the need for growing service delivery with maintaining affordability for our taxpayers.
Supporting documents for the 2023-2024 Budget
Guiding financial policies
Every Town project, initiative and goal, as well as our budget planning, is guided by our Community Strategic Plan: Innovative Innisfil 2030. This plan was developed through extensive consultation and thousands of comments and pieces of feedback from the community. The pillars of Grow, Connect and Sustain guide our strategic goals and initiatives.
We also use these Town financial policies to guide our decision-making when developing the budget:
Get involved
Thanks to everyone who took the time to complete our budget survey! Check out the engagement summary report to see what your fellow neighbours said about service level priorities. We hope you continue to stay engaged throughout the budget process. Please email us at budget@innisfil.ca with any comments or questions.
Budget deliberation days
The 2023-2024 Budget was tabled at the Council Meeting on December 14, 2022. Council will deliberate this budget on January 25 and 27, 2023. You can watch the live broadcast of the meetings on our YouTube channel.
Day 1 Budget Deliberation
On January 25, Council discussed the following budget sections:
Opening remarks, budget overview and agenda
South Simcoe Police Service
Innisfil ideaLAB & Library
By-law Enforcement
Building Permit and Inspection Services
Economic Development
Engineering Services
Planning Services
Lake Simcoe Region Conservation Authority
Nottawasaga Valley Conservation Authority
Innisfil Transit
Health and Wellness
People and Talent Management
Communications and Community Engagement
Corporate Management
Closing remarks
Day 2 Budget Deliberation
On January 27, Council will be discussing the following budget sections:
Recap of Day 1
Fire Protection
Sports and Recreation
Facilities Management
Parks and Open Spaces
Stormwater Management
Transportation Network
Fleet Management
Citizen Requests and Services
Council and Committees
Customer Service
Corporate Finance
Corporate Legal Advice and Support
Financial Management
Information Technology
Council discussion and direction
Closing remarks
About the Budget
Learn more about how the Innisfil Budget is developed and where funds are distributed throughout the community.
Breakdown of your tax dollar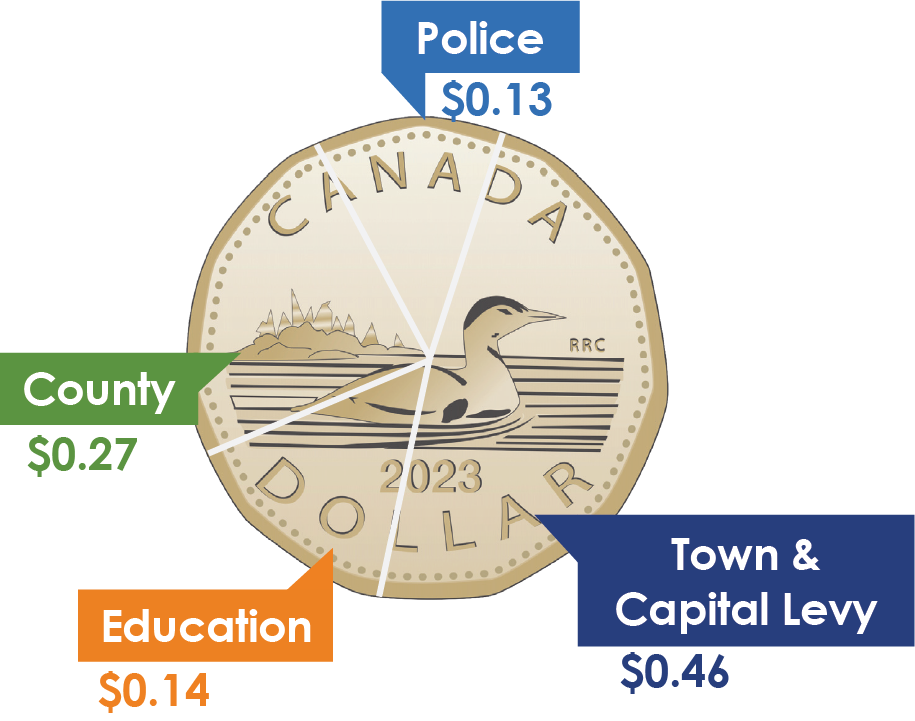 Your property tax bill may be paid to the Town of Innisfil, but only 46 cents of every dollar stays with us. We use this portion to provide the many critical services you rely on every day, from maintaining parks and roads to delivering fire and rescue services and so much more. We also set aside funds for the Town's Capital Levy.

The rest goes to the County of Simcoe, South Simcoe Police Service, and the Province of Ontario (Education). The County of Simcoe is our "upper-tier" level of government that provides waste collection, paramedic services, long-term care, forestry, social services and more.
Capital Levy
Just like your car, house or electronic devices, physical municipal assets have a limited lifespan and require ongoing maintenance to extend their life. Eventually, they need to be replaced or discarded. The Town collects a Capital Levy—money set aside to help pay for the repair and replacement of existing assets or new assets and projects that aren't eligible for funding from development charges.
How your tax dollars are calculated
Property assessment and property taxes play a significant role in the Town's budget. The Municipal Property Assessment Corporation (MPAC) is responsible for assessing every property in Ontario. The Town uses the property assessments to determine the tax rate required to collect the revenue needed to deliver services to our residents. The tax rate is then applied to the assessed value of each property to arrive at the amount of property taxes owed.
Learn more about property taxes and assessments.
Service-based budgeting
Our service-based budget breaks down costs and resources by service, rather than by department, helping residents better see where tax dollars are being spent.
Advantages of service-based budgeting
Improved services: Taking a closer look at what we do allows us to focus on making sure we are operating efficiently and effectively.
Back to basics: A service-based budget means every employee and leader is asking themselves about what services they provide and where they should focus their time to deliver the best value.
Easier to understand: A service-based budget is a more simple and focused way of viewing a budget. By creating a more accessible budget, we are empowering Council and the community to have a better understanding of the value and costs of the services we provide.
Public accountability: A service-based budget allows employees to track their time based on the services they deliver. All costs associated with the service are captured, uncovering the true cost in a more holistic way.
Operating Budget vs. Capital Budget
Learn more about the differences between an operating budget and a capital budget:
Operating Budget
The operating budget is used to keep the municipality running on a day-to-day basis.
When you call the Town to report a problem, pull over for firefighters on their way to a call, or attend a library program, this is the operating budget at work. It makes up essential services, such as pothole repairs, snow clearing and park maintenance. This budget ensures that we have engineers, librarians, community standards officers, town planners, administrative support, financial analysts and an overall great team of employees who strive to make Innisfil a great place to live.
Capital Budget
The capital budget is used to request funding for new assets, major repairs and replacement of existing assets.
Whether we are building a new health centre, replacing a roof on a building or repaving a road, this is the capital budget at work. Capital budget projects include initiatives like bridge repairs, road-widenings, new parks and facilities, and new construction, expansions or renovations.
Past Budgets
View past Town of Innisfil budgets:
Please contact us to request budgets for previous years.