Deputy Mayor Kenneth Fowler
Deputy Mayor Kenneth Fowler represents all community members in the Town of Innisfil.
Contact Deputy Mayor Fowler
You can contact Deputy Mayor Fowler by email at kfowler@innisfil.ca or give him a call at 705-436-3740 ext. 1102. You can also contact his cell at 705-220-1664. Follow him on Facebook, Instagram and Twitter to stay updated on Town happenings.
About Deputy Mayor Fowler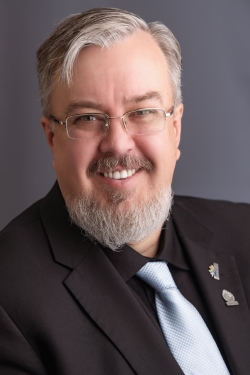 Deputy Mayor Fowler was elected in 2022, previously serving as Innisfil's Ward 5 Councillor from 2018-2022. He brings unique skills and perspectives to guide the long-term growth of Innisfil. Deputy Mayor Fowler has lived with his wife and son in the community for over half his life. Seeing how beautiful Innisfil was when he visited his father (who incidentally lived in Ward 5), Deputy Mayor Fowler chose to set roots in a town where he felt family values were deeply woven into its fabric.

Deputy Mayor Fowler works for the Toronto District School Board in the Operations and Facilities department as an engineering specialist. He was one of the first members of his local to earn an interprovincial Red Seal as a Boilermaker. He also carries his provincial government certification as an Occupational Health and Safety representative for both worker and management levels.
Prior to joining Town Council, he was the Chair of the Goodfellow School Parent Council for several years, which allowed him to see first-hand the issues within the community. Making Innisfil better for his son was one of the driving motivations to run for Council.
Deputy Mayor Fowler has been active in the community for quite some time, bringing issues such as mental health and children's safety and welfare to the forefront. He encourages youth to explore what they can do in our community for the betterment of others and promotes an understanding of how education is an important factor in this. Shining a light on the trades and how essential these skills can be is one of many ways he seeks to instil these values.
Deputy Mayor Fowler emphasizes keeping people in town and providing them with the resources they need as the community grows.
Community involvement
Deputy Mayor Fowler has chaired the Pitch-in Committee and Helping Hands Committee and has been an active member of the Innisfil Public Library Board.
Deputy Mayor Fowler is a firm believer in supporting and promoting local businesses.