Councillor Jennifer Richardson
Councillor Jennifer Richardson represents Ward 3 for the Town of Innisfil. 
Contact Councillor Richardson
You can contact Councillor Richardson by email at jrichardson@innisfil.ca or by phone at 705-436-3740 ext. 1113. You can also contact her cell at 249-733-2726. Follow her on Facebook to stay informed.
About Councillor Richardson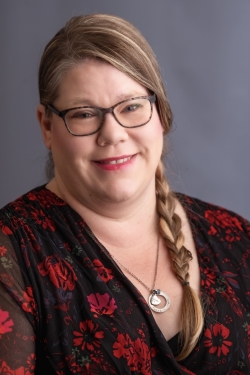 Councillor Richardson moved to Innisfil in 2015 with her husband Mike and two sons, Jacob and Owen. She ran a home childcare service that offered before-and-after school care for Alcona Glen Elementary School (AGES) students until her youngest graduated from AGES. Right away, Councillor Richardson got involved in the community by becoming one of the co-chairs of AGES and volunteering in school classes. She joined the Parent Involvement Committee from 2017-2021 where she acted as Vice Chair from 2019-2021. Councillor Richardson also serves on the Nantyr Shores Secondary School council as Co-Chair.

This first-time Town Council member is no stranger to supporting her community. In 2015, she became the Welcome Wagon representative for the Innisfil area. In this role, she met amazing new residents and added New Parent visits to her list of tasks in 2016. In 2018, she started to run the 55+ Show, the Bridal Showcase, and family events through the Welcome Wagon.
Unfortunately, COVID-19 impacted the Welcome Wagon's ability to continue, but that didn't slow this long-time community volunteer. She pioneered many popular community events, including Light It Up Innisfil, InnisFULL, Discover Innisfil Car Rally and Scavenger Hunt, and the Halloween House Decorating Contest. These events brought community members and businesses together while supporting local charities like the Innisfil Food Bank and Christmas for Kids (C4K). She recently joined the Lions Club and plans to continue community events with her family such as the annual Backpack Drive.
As a self-proclaimed Super Mom, Councillor Richardson wants those growing up in the town, including her own children, to see Innisfil as a place to put down roots. She is particularly invested in traffic safety, creating better destinations for youth, and working with local organizations to put on more events for the community.
Councillor Richardson was awarded the John Brassard Volunteer of the Year award for several years in a row. Councillor Richardson is looking forward to using her volunteer experience as she transitions to her new role as Ward 3 Councillor.