Innisfil Beach Park is a little more colourful and inclusive thanks to a new Pride Crosswalk. Located beside the front gate of the park, the Pride Crosswalk sends the message to residents and visitors that in Innisfil, you can walk proudly knowing that you have the freedom to be yourself.
About the design
Over the past few years, updates to the rainbow flag show the diversity of the 2SLGBTQI+ community. In the summer of 2021, Innisfil ideaLAB & Library received permission from Valentino Vecchietti to use their design to paint one of Innisfil's most popular destinations with colours of inclusivity.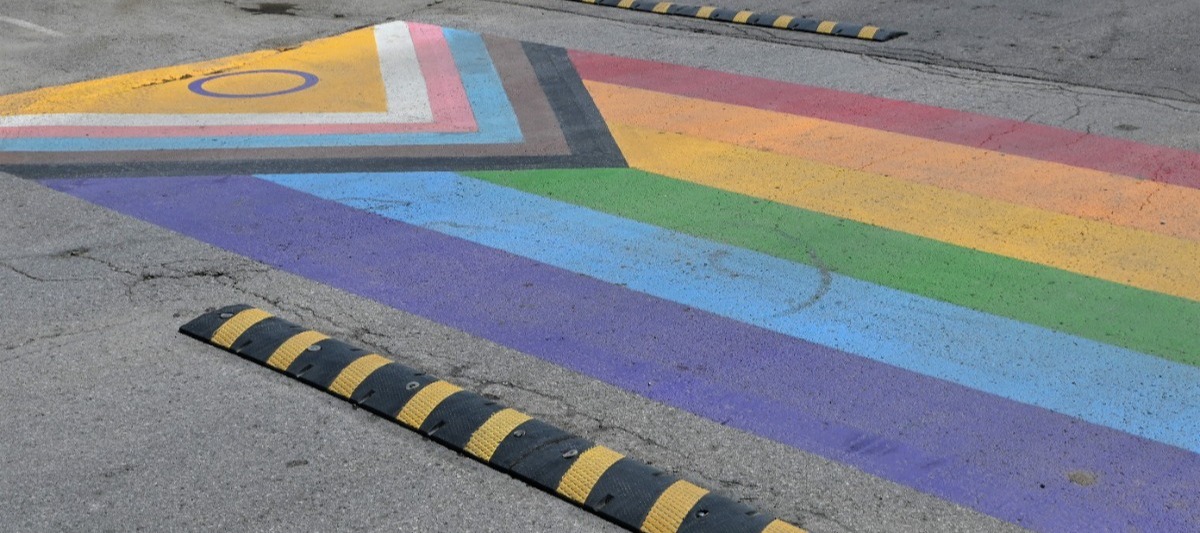 Behind the colours
Each colour of the flag holds meaning. The six horizontal colours of the rainbow pride flag represent:
Red for life
Orange for healing
Yellow for sunlight
Green for nature
Indigo for harmony
Violet for spirit
The black and brown chevron represents people of colour, those living with AIDS, and those no longer living. The pink, light blue, and white chevron represents the trans community. The yellow triangle with a purple circle represents the intersex community.
Project partners
Meet our partners on this project, including Innisfil Pride and Valentino Vecchietti.
Innisfil Pride
Innisfil Pride is all about the inclusion and support for LGBTTIQQ2SA. As their logo indicates, Innisfil Pride wants everyone to feel safe and respected to "bee yourself". Whether you identify with LGBTTIQQ2SA or are simply a supporter, Innisfil Pride welcomes everyone with a positive, open, and encouraging mindset.
Follow Innisfil Pride on Facebook, Instagram and Twitter to stay updated.
Valentino Vecchietti
Valentino Vecchietti (she/they) is an intersex activist, columnist, and writer from the UK. In 2021, Vecchietti in partnership with Intersex Equality Rights UK, reimagined Daniel Quasar's Progress Pride Flag to include the intersex community. The design incorporates a purple circle against a yellow background, which are the colours of the intersex flag. Vecchietti has been working with partners across the globe to expand intersex education and overall inclusion within the LGBTQI+ community.
Check out their comic IN-OUT: Gender Through the Brexit Lens and more about Vecchietti's work.
Recommended resources
Check out reading lists through the Innisfil ideaLAB & Library on Pride and Intersex and watch a presentation with Valentino Vecchietti on Intersex Inclusion and Representation.