Come explore Innisfil Town Square! Extensive community consultation informed the development of this space and we welcome residents to see their ideas put into action.
Location
Innisfil Town Square is centrally located at 971 Innisfil Beach Rd., between the Innisfil ideaLAB & Library and Lakeside Retirement, making it easy for people to walk or wheel to. Limited parking is also available at the Library's Lakeshore branch and along Innisfil Beach Road.
Splash pad
The splash pad is open from 9 a.m. to 9 p.m. daily. The splash pad typically opens for the season near the end of May and closes in September each year, subject to change based on weather.
To activate the splash pad, press the start button on the ground with your bare hand or foot.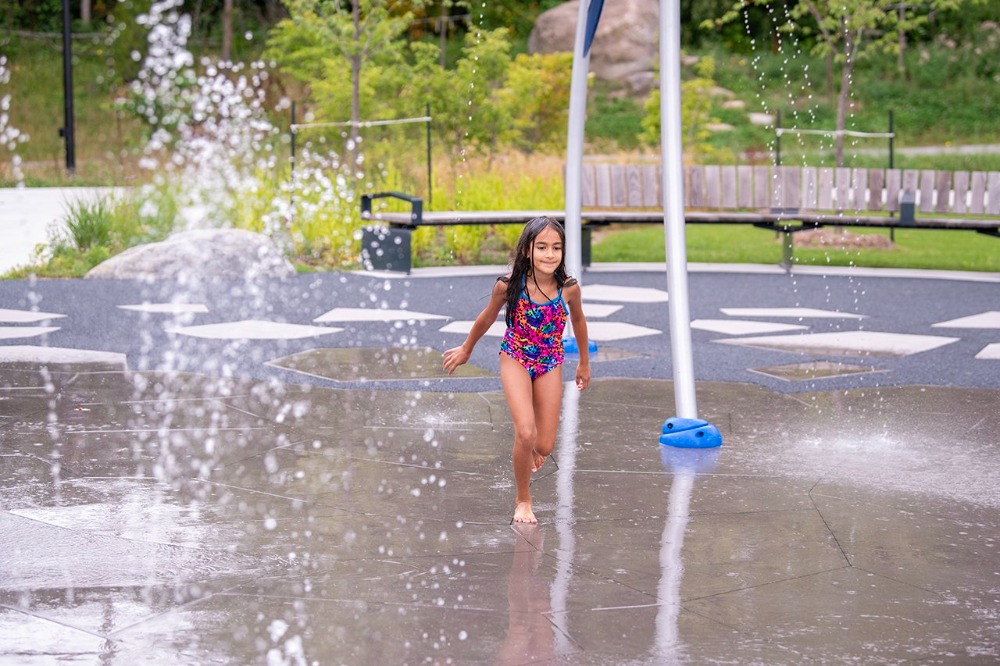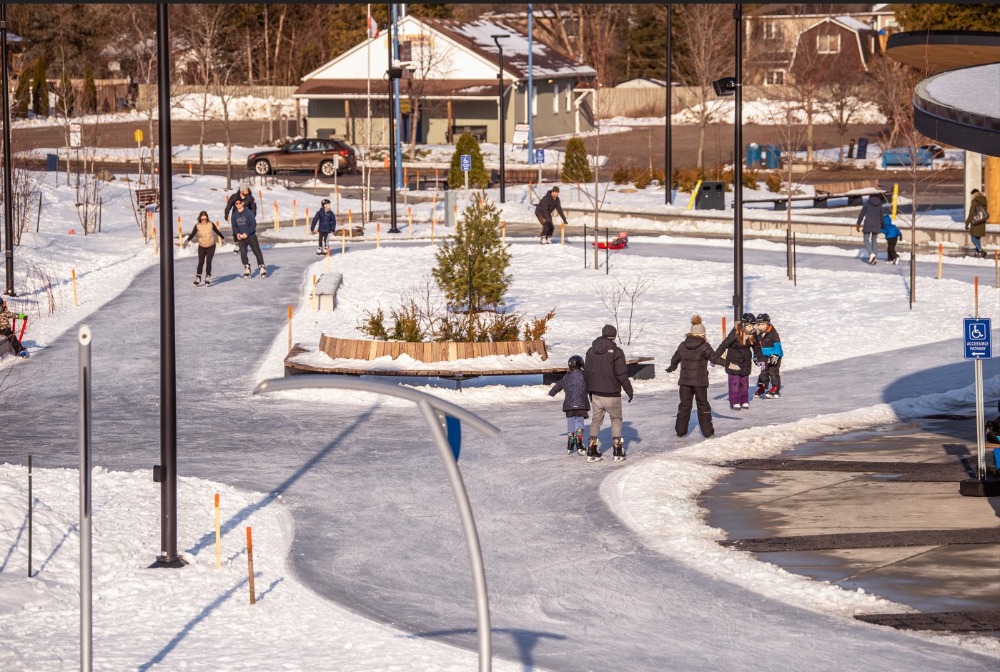 Town Square skating trail
The 240-metre refrigerated ice skating trail loops though Town Square and is open from 8 a.m. to 9 p.m. during the winter season, weather dependent. You can use the trail for walking or rollerblading in the warmer months.
The skating trail is closed for the season.
Skating trail rules
Please follow the rules to ensure everyone has a fun and safe visit:
CSA-approved helmets are recommended
Skate aids are permitted
Hockey is not permitted—No sticks or pucks allowed
Children under 12 must be accompanied by an adult
Skates are required to enter the skating trail, no other footwear is permitted
Unsafe or hazardous activities can result in ejection from the park
Other amenities
Explore other great features that make this community space enjoyable.
Project background
Over the years, we've heard our residents loud and clear—you want more fun things to do close to home. Through Town Square public engagement, people asked for more places for social interaction, a splash pad in Alcona, a skating trail, and more unique spaces to enjoy. We awarded the design to Rutherford Contracting Ltd. and construction started in June 2021. The space opened in December 2022.
Public engagement
Review our Town Square Public Engagement Report for an overview of what we heard from residents and how we involved our community in the design of this space.
Photo Gallery: Town Square Public Engagement Photos will appear here on the public site.
Funding and construction
This project was funded in part by the Government of Canada through the Canada Community Revitalization Fund, delivered by the Federal Economic Development Agency for Southern Ontario (FedDev Ontario). Other sources include contributions from OLG, DG Group, and development charges.
We gratefully acknowledge the following in the development of this community space:
Rutherford Contracting Ltd.
PMA Landscape Architects Ltd.
Ted Handy & Associates
Jones Consulting
McGregor Allsop
MJS Consultants
Blackwell Structural Engineers
CIMCO