Eastern Ave Lakeside Park
The Town of Innisfil owns 46 rights-of-way and easements that provide public access to Lake Simcoe and Kempenfelt Bay shorelines. These access points have unique features and amenities such as docks, swimming, beaches, boat launches, picnic areas, scenic views, ice fishing access, and more. The desire for greater public access to the waterfront has been a long-standing priority in Innisfil, with numerous studies and plans that support this dating back over the past 25 years.
Lakeside park improvements program
To improve public access and enjoyment of these spaces, a Lakeside Park Improvements Program started in 2017. Since the program started, we've made improvements to the following locations:
Shore Acres Drive - Gilford
Gilford Road - Gilford
9th Line (Bon Secours Park) - Alcona
Big Bay Point Road - Big Pay Point
Eastern Ave Lakeside Park
Eastern Avenue Lakeside Park is included in the Lakeside Park Improvements Program. In 2022, we retained Schollen & Company Inc. to complete the design of the Eastern Ave Lakeside Park. The current park space has access to the lake via a concrete dock that is poor condition.
The new design of the park includes:
New seating including picnic tables, benches, Muskoka chairs
Drainage improvements
Accessible parking space
Accessible trail
Deck/viewing platform with access to the lake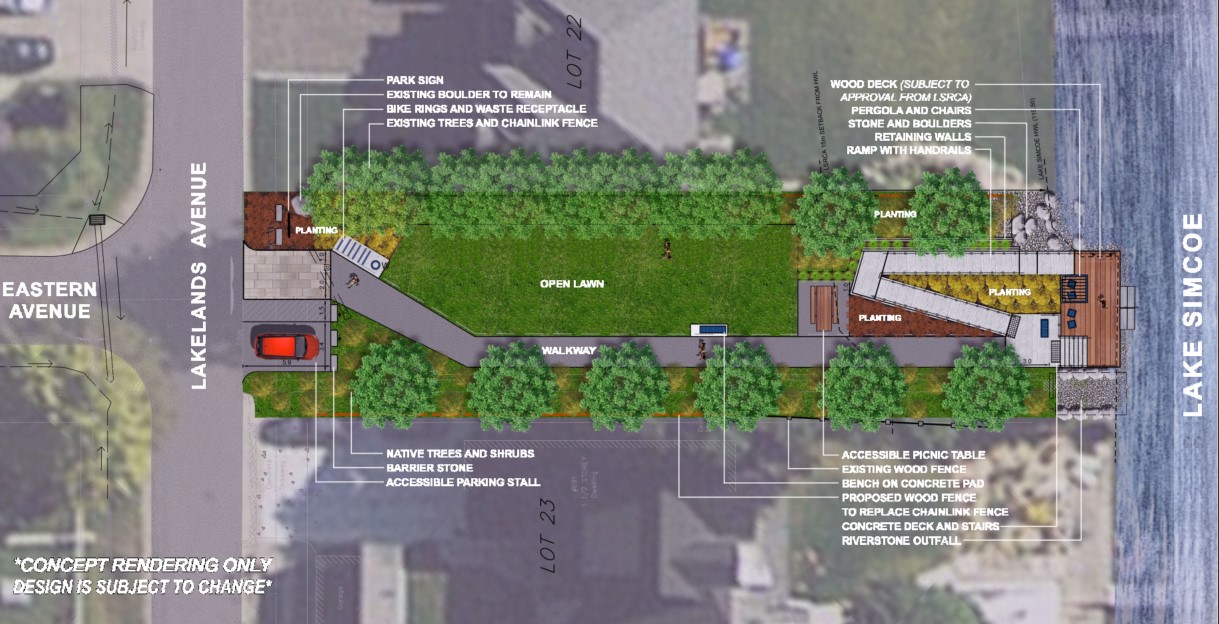 Next steps
Construction is scheduled to start in summer 2023. Scheduled for completion in spring 2024.