Mayor's Business Breakfast brings local leaders and entrepreneurs together in Innisfil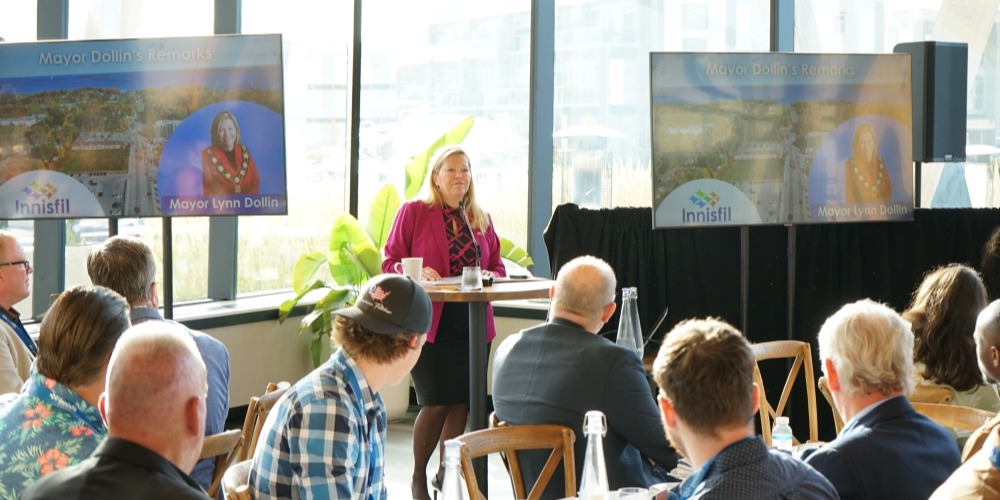 Innisfil, ON – The Mayor's Business Breakfast brought together more than 130 attendees at Friday Harbour in the Town of Innisfil on September 13. Local business leaders, students and dignitaries gathered to network with fellow entrepreneurs and changemakers and hear strategic updates impacting Innisfil's business community.
"This annual event is all about creating shared goals, learning from each other, and laying the groundwork for collaboration as we strengthen Innisfil together," says Mayor Lynn Dollin. "The draft goals and objectives discussed today will play a crucial role in shaping the future of our town and ensuring that our plans align with the goals of our local business community."
The morning kicked off with attendees hearing directly from Mayor Dollin followed by a virtual presentation from Deloitte Chief Economist, Dawn Desjardins. The industry expert discussed key economic factors and trends to help support a well-rounded perspective on the challenges and opportunities that lie ahead in Innisfil.
One of the highlights of the event was a comprehensive update on the Town's 3-Year Economic Development Strategic Plan, offering a first look into data collected from stakeholder engagement sessions, surveys, and interviews earlier this year. Attendees had the opportunity to participate in on-site validation exercises, ensuring that the development of this strategy truly reflects the community's needs and aspirations.
The Mayor's Business Breakfast underscores the Town's commitment to fostering economic growth, development, and collaboration among its diverse stakeholders. Community members are encouraged to subscribe for updates at innisfil.ca/EcDevNews.