DMZ Innisfil hosts global startup founders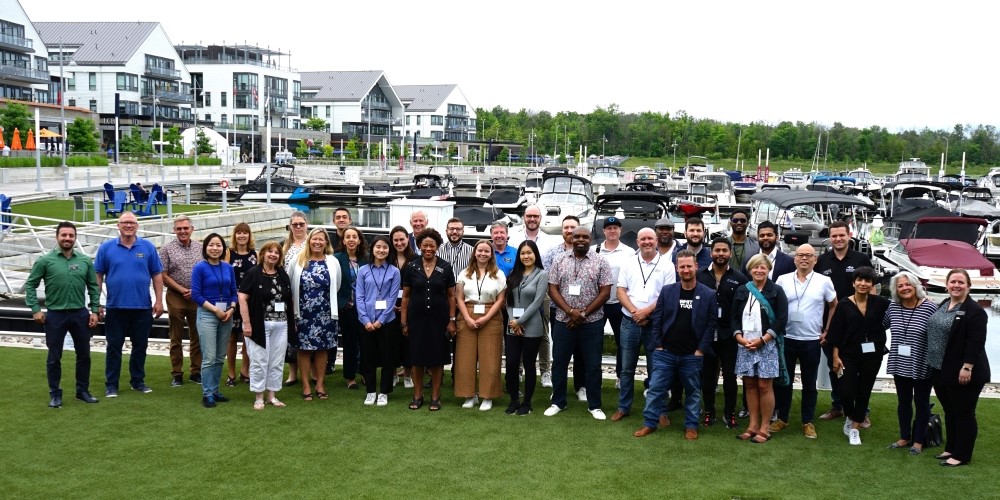 Innisfil, ON – The spotlight was on the Town of Innisfil last week as startup founders from DMZ's Global community descended upon Friday Harbour to learn more about DMZ Innisfil, rural innovation and starting a business in Canada.
"We were proud to host startup founders from China, Egypt, Japan, Vietnam and the Philippines as well as recent newcomers to Canada who have settled in the Town of Innisfil," says Mayor Lynn Dollin. "It was a pleasure to showcase the accomplishments of local startups and invite entrepreneurs to experience the beauty of Innisfil first-hand."
DMZ Innisfil, a program delivered locally through a partnership with DMZ, Toronto Metropolitan University's tech incubator, allows regional entrepreneurs and startup founders to access a customized mentorship program, resources and events to help grow or scale their businesses. Through the DMZ Innisfil Showcase approximately 30 founders were brought together from across the global DMZ community to connect, discuss common challenges and build a network of like-minded entrepreneurs.
Local founders Marcia Woods, CEO and Founder of FreshSpoke and Michael Agema, Founder and CEO of Agema Work were on hand to share the journey to scale their businesses through the support of DMZ Innisfil. Attendees were also able to learn about what it's like to grow a business in Simcoe County as Innisfil prepares to double its population and double its workforce by adding 20,000 new jobs by 2051.
"Many of the attendees were eager to learn more about what we're doing, how they could tap into local resources and opportunities to pilot their projects here in Canada," says Laura Thompson, Manager of Economic Development. "We have such an incredible entrepreneurial ecosystem in Innisfil so it was no surprise to see so many passionate and productive discussions taking place that will lead to cross-border collaboration."
Attendees were able to keep those conversations going as they reunited at the Collision Conference this week. Collision, one of the world's largest tech conferences, attracts founders from around the world and across industries to explore everything from the latest developments in artificial intelligence, to software development, gaming and augmented reality to the application of tech as it pertains to sustainability, marketing and leadership. Together with DMZ Toronto, DMZ Innisfil hosted a panel discussion on Rural Innovation in Canada, featuring local founders representing White Tuque, FreshSpoke, NewRidge Refinishing Group, and Spotwork. View video highlights online.

Entrepreneurs who are looking for support to build and scale their business are invited to apply to the next cohort of the DMZ Innisfil program. Applications for the next cohort are open until July 21. For more information, and to apply to the DMZ Innisfil program, visit Innisfil.ca/DMZ.